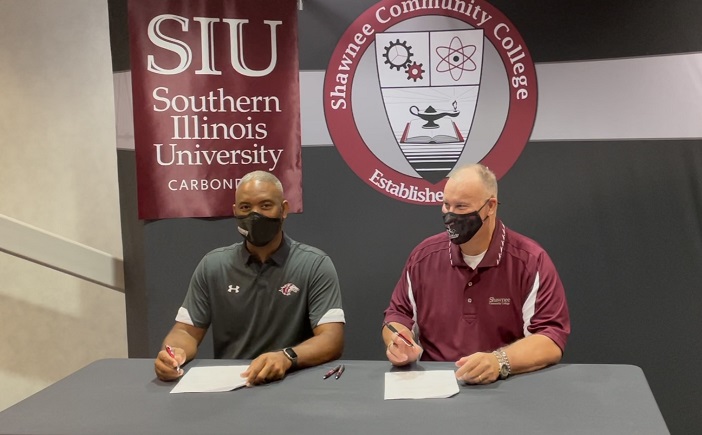 ULLIN, IL. — Shawnee Community College and Southern Illinois University Carbondale formalized a historic agreement today providing a more seamless entry into several SIU online programs.
The agreement, called Saluki Step Ahead, offers SCC students who have entered into the agreement with SIU to receive automatic admission to SIU's online accounting, business and administration, criminology and criminal justice, psychology, health care management and radiologic sciences programs.
SIU recently signed a Saluki Step Ahead agreement with the Illinois Community College Board (ICCB), which represents all 48 community colleges, to provide qualified community college students who are place-bound the option to earn their bachelor's degrees remotely and at a lower cost. SCC is the first college to partner with SIU, and the university is in discussions with several other community colleges throughout the state regarding similar partnerships.
Following graduation with an associate degree from the community college, students can go on to complete their SIU bachelor's degrees online while still living in their hometowns. They pay the community college rate for their first two years. In the third and fourth years, they receive an annual $4,000 scholarship. The goal is to allow them to earn their degrees for $25,000 or less.
The new Saluki Step-Ahead agreement follows the recent announcement between SCC and SIU for the reverse transfer initiative that allows students to pursue a baccalaureate while earning an associate degree at SCC.
Shawnee Community College President Tim Taylor said the Saluki Step Ahead agreement offers more options to students in the area by making it easier to enroll in programs at SIU. "I believe this new partnership offers one more way that we can open doors of opportunity for our students. SIU has been an excellent partner in my own academic journey as a Saluki, and I am confident that the pathways created by the Saluki Step Ahead will hold great value to incoming students from our region as well."
SIU Chancellor Austin Lane agreed. "We are committed to removing barriers between students and their education, and we are pleased to collaborate with Shawnee on helping students achieve their goals," he said. "If Shawnee students cannot continue their studies on our beautiful campus, then we are bringing the SIU Carbondale experience to them. Today's agreement fits perfectly with our 'Imagine' strategic plan, which includes a pillar to enhance partnerships."
The new agreement marks another step the institutions have taken to remove barriers for southernmost Illinois students seeking to obtain their education in our region. SCC students who transfer to SIU's online programs will receive personal attention from their instructors. The program offers a continuation of their student-centered experience at Shawnee Community College. It also ensures that the courses they took at SCC will seamlessly integrate into their program at SIU.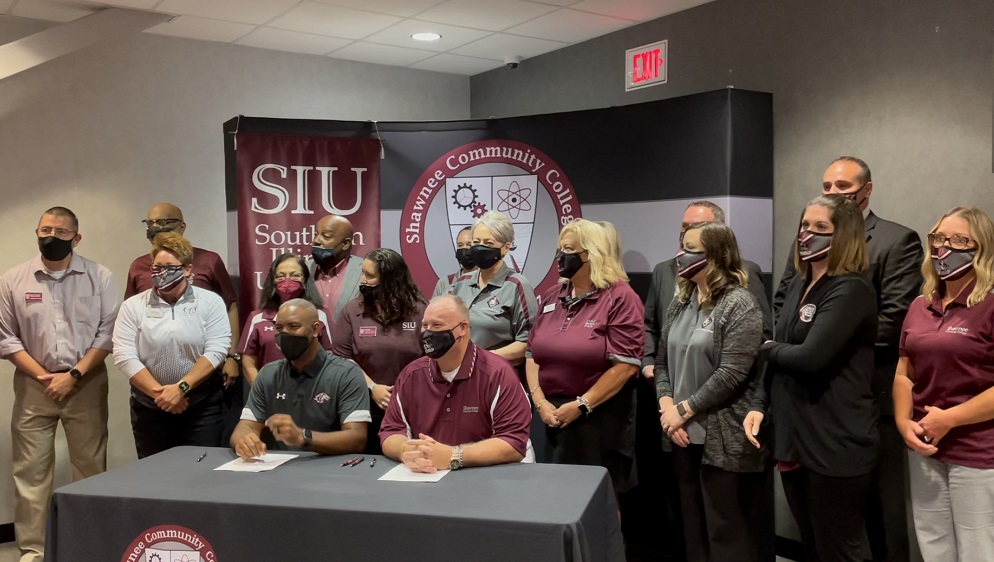 Joining Taylor and Lane for the Saluki Step Ahead signing ceremony were:
SCC Faculty and Staff
Dr. Lisa Price – VP of Student Success & Services

Dr. Kristin Shelby – Dean of Academic Affairs

Dr. April Teske – Director of Institutional Research

Dr. Greg Mason – Dean of Workforce and Innovation

Jean Ellen Boyd – Interim VP of Academic Affairs

Brandy Woods – Interim-VP of Finance

Danielle Boyd – Registrar

Rob Betts – Executive Director of Communications

Chris Clark – Director of I

T

Mandy Hannan – SCC Director of Nursing

Eric Howard – Criminal Justice Instructor

JoElla Basler – Division Chair & Psychology Instructor

Phyllis Sander – Computer Instructor

Craig Bradley – Computer Instructor

Sherri Malone – Computer Instructor

Anna Davenport – Agriculture Instructor
SIU Faculty and Staff
Meera Komarraju – Provost and Vice Chancellor for Academic Affairs

Wendell Williams- Associate Chancellor of Enrollment Management

Amanda Sutton – Interim Director of Admissions

Josi Rawls – Assistant Director for Transfer Relations

Bob Morgan – Dean of the College of Health and Human Sciences

Cara Doerr – CHHS Recruitment and Retention Coordinator

Jason Nugent – Admissions Coordinator

Eric Brevik – Dean of the College of Agricultural

Life and Physical Sciences

Frank Liu – Dean of the College of Engineering,

Computing, Technology

and Math

Reza Habib – Director of the School of Psychological and Behavioral Sciences

Matt Giblin – Director of the School of Justice and Public Safety

Kelli Whittington – Program Director of Nursing
The signing took place in The L-Atrium at Shawnee Community College. More information about Saluki Step Ahead is available by calling 618.634.3200.