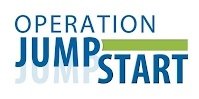 Before you quit your job , expand your business or invest your life savings, wouldn't it be nice to know whether your business idea has merit?
In Operation JumpStart : First Step, you'll examine your business idea from every angle. Not only will it help you make a decision about starting your business, you will discover whether the life of an entrepreneur is right for you.
Operation JumpStart is a practical, hands-on, microenterprise development program designed to help entrepreneurs test the feasibility of their business ideas and plan to launch new ventures. By accelerating the number of new businesses and helping entrepreneurs succeed, Operation JumpStart contributes to building and sustaining strong, vibrant communities and economies.
This entrepreneurial business training and mentoring program relies on:
A proven curriculum developed for the micro-entrepreneur

A wide range of training topics, including:
Concept development
Market research
Market analysis
Financial projections
Case studies

A supportive Facilitation Team and process, including:

An experienced Facilitator
Knowledgeable Business Coaches
Small group exercises
Weekly take-home assignments
Individual meetings with a business coach who can assist you with your preparation of a feasibility plan.
Contact for More Information
Center for Community and Economic Development Coordinator – (618) 634-3231