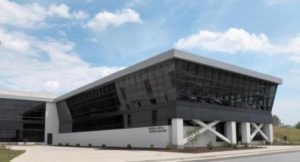 Shawnee Community College is committed to the economic vitality of southernmost Illinois. Shawnee Community College works to stimulate the region by providing on-going assistance and support to communities with industrial attraction, expansion and retention.
Through the Center for Community and Economic Development a variety of services are offered to businesses, industry and the communities within the SCC district. These services include:
The Business and Industry Training Center provides workforce development training opportunities for business and industry. A variety of courses are available including computer and general office training, forklift certification, OSHA Safety Courses, Customer Service Training just to name a few or we can customize a program specifically to meet the needs of your business.
The Illinois Small Business Development Center provides assistance to small businesses with start-up, expansion, business and marketing plan assistance, accessing financing opportunities, and a variety of seminars and workshops.
Health Services Training Center – Shawnee Community College is a Basic Life Support Training Center for the American Heart Association and offers most emergency training courses free of charge, with only the cost of the book, to business and industry in our college district.

WorkKeys Assessments

– Shawnee Community College is also an authorized WorkKeys Service Center. WorkKeys is a job skills assessment system measuring "real world" skills that employers believe are critical to job success. These skills are valuable for any occupation, and at any level of education.
Authorized Certiport Testing Center – Certiport is the world leader in performance-based certification testing. Centers are uniquely positioned to provide the highest level of reliable, performance-based testing. Microsoft Office Specialist, IC3, Microsoft Technology Associate, HP Accredited Technical Associate, Intuit and Adobe are some of certifications currently offered.

Authorized Pearson Vue Center

– Pearson Vue is the global leader in computer-based testing from information technology, academic, government and professional testing programs around the world. Pearson Vue provides a full suite of services from test development to data management, and delivers exams through the world's most comprehensive and secure network of test centers in 170 countries.

Illinois Teachers Certification Testing
Comp TIA Authorized Academy Partner

Continuing Education Sponsor – Shawnee Community College is a licensed Continuing Education (CEU)/Continuing Professional Development (CPDU) sponsor for Accounting (#158.002514); Nursing Home Administration (#139.00059); Cosmetology (#190.000149); Social Work (#159.001011); Teachers' ISBE (#101.376) and pre-approved sponsor for Nursing Continuing Education pursuant of Section 1300.130 (N) (P) through Illinois Department of Financial & Professional Regulations. CEU/CPDU hours may also apply to other professions.